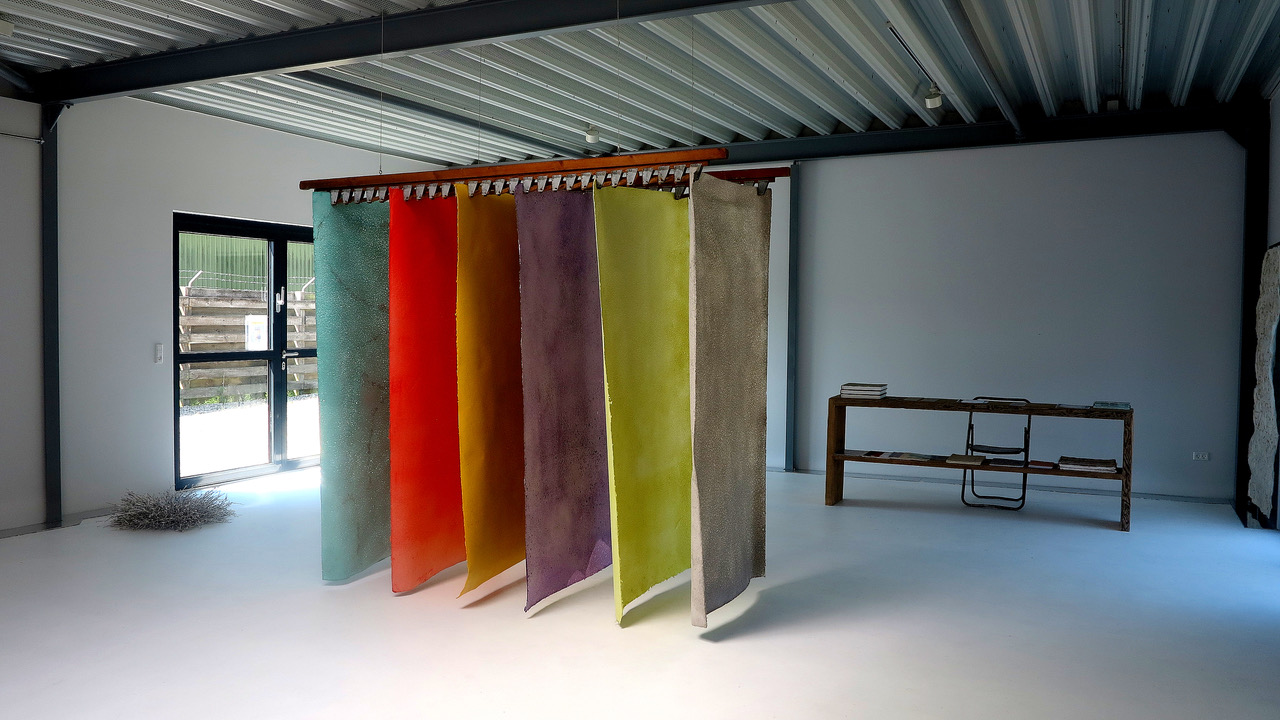 ANNE VILSBØLL – PAPER HAS A MEMORY
June 3rd – July 23rd 2022
Birthe Laursen Art Agency Gilleleje, St. Strandstræde 1, 3250 Gilleleje
Throughout her four-decade art practice, Anne Vilsbøll has investigated the qualities and capabilities of paper as a material in both painting and sculpture. She has studied many different papermaking traditions around the world, which in turn suffuse the formal language of her compositions and her thematic considerations.
In PAPER HAS A MEMORY,Vilsbøll explores the origins, history, and uses of paper. The material itself is the central locus of meaning, and it is brought into focus through various sculptures and objects that consider our symbiotic relationship with nature.
The group of works entitled Containers of Life and Death, which consists of four urns made from seagrass, kozo, and manila hemp, illustrates the transience of human life, while at the same time evoking the all-encompassing system of nature, in which the new is inevitably born from that which once was. As humans, we are bound to each other and to nature, and our choices will always resonate through the ecosystems of which we are a part. The series comprising My Secret Garden investigates paper as a medium and a storyteller. The textured sheets convey narratives embedded within the very fibers and structures of the paper – organic stories about nature, made by nature.
The Paper Academy in Gilleleje serves as Anne Vilsbøll's studio, where she creates commissioned works and experiments with new practical applications and aesthetic possibilities of bio-based pulp. Additionally, The Paper Academy operates as a space for exhibitions, talks, and art residencies centered around facilitating and inspiring potential new approaches to paper that challenge our accepted conventions.
The exhibition PAPER HAS A MEMORY can be seen from June 3rd-July 23rd, 2022 at Birthe Laursen Art Agency: Store Strandstræde 1, 3250 Gilleleje. Opening hours are Friday 14:00-18:00, Saturday 12:00-16:00, as well as by appointment.
ARTIST TALK & WORKSHOP
In connection with the exhibition PAPER HAS A MEMORY, Anne Vilsbøll will hold an artist talk and workshop at The Paper Academy, where she will expand upon her practice and introduce guests to the production techniques of various paper materials. The event will take place on Saturday July 2nd, 2022 from 16:15-18:30 at The Paper Academy: Stæremosen 8, 3250 Gilleleje. 100 DKK per participant. To sign up call 40307707 or write to brl@birthelaursen.com.